Aire-Fluid Brass Nickel-Plated Igual Y Push to ConnectorCon el número de código: AJPY08.
Descripción del producto:
Ningbo Air-Fluid AJ PY08 Conector Igual Y, Latón niquelado Conexión Push-to-Connect, Tubo de 08 mm OD × 08mm Tubo OD × 08mm Tubo OD, Material de collar: Latón H59, Material de construcción: Latón niquelado, Presión (PSI ) 1000, Rango de temperatura -20 a 100 Deg, Peso: 42.80g, Altura: 40.00mm, Espesor de níquel: 10um,, O-ring: NBR-A, Cantidad por paquete 25Pcs. Garantía: 18 meses, marca: Air-Fluid.
Precauciones:
La conexión o desconexión repetida de la manguera de Nylon o PU en latón niquelado empuja los accesorios , lo que provocará que los arañazos se cubran con manguitos de nylon o PU, la fuga es posible, la forma correcta se corta del extremo rayado de nylon o PU insértelo nuevamente para evitar la fuga.
Air-Fluid Brass Nickel-Plated> Sistema de enfriamiento de niebla al aire libre> BSPT Latón niquelado Push Up Fittings> Sistemas de lubricación Fittings>
Speed ​​Control Valve> Neumática Push in Fittings> Slip Lock Fittings>
Teflon Washer Metal Push in Fittings> Push to Connect Tube Accesorios
> BSPT latón niquelado pushdown accesorios.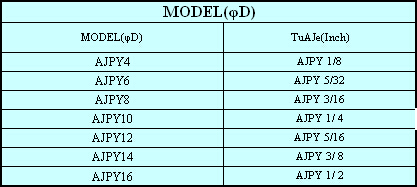 Grupos de Producto : BSPT latón niquelado Push Fittings